Great news! Baloo, the  Mastín mix puppy found abandoned with his sister Dama in Órgiva, has found his forever home. Thanks everyone!

Dog Fact file
Name – BALOO
Breed – MASTÍN MIX
Sex – MALE
Age – 3 & 1/2 MONTHS
Vaccinations – YES
Chipped – YES
Spayed/neutered – IN PROGRESS
Ready to travel – YES
Special needs – NO
STATUS – ADOPTED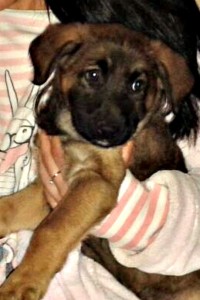 Meet BALOO
Hello everyone. My name is BALOO
My little sister Dama and I were found abandoned in Órgiva and we needed to find a forever homes. I have a new owner and I hope that they find one for Dama soon. Thanks Valle Verde!