Wonderful news for Bibi! He has found a forever home. Thanks to everyone who helped make it possible!
Dog Fact file
Name – Bibi
Breed – Mix
Sex – MALE
Age – 8 years
Vaccinations – YES
Chipped – YES
Spayed/neutered – YES
Ready to travel – YES
Special needs – Has trouble with one of his eyes
STATUS – ADOPTED MAY 2015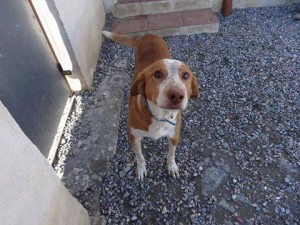 Meet BIBI
Hello everyone.
This is Bibi, he is 8 years old and a gentle dog who has had an awful life until now. He is now in foster but would love a home of his own. He is a gentle soul but has problems with one of his eyes as he was abused while he was chained up.
At long last Bibi has found his forever home in the UK and will be traveling there beginning of July 2015. He has waited such a long time for this. Such wonderful news for him. Thank you to everyone who shared his photos and his story, especially Linda Soler and Linda Foreman.
ADOPTED- MAY 2015