Dog Fact file
Name: HARRY
Breed: SMALL MIX
Sex: MALE
Age/DoB: MARCH 2012
Vaccinations: YES
Chipped: YES
Spayed/neutered: YES
Ready to travel: YES
Special needs: NO
Friendly: YES
STATUS: FOR ADOPTION FEB 2018
DATE POSTED: MAY 1017/FEB 2018
Ref: 4749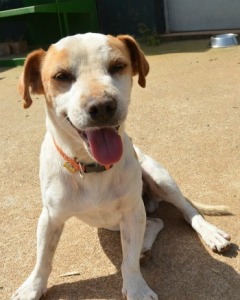 Hello everyone, meet HARRY
Harry is a small dog of 5 years old. His date of birth is 01/03/2012. He is a friendly little boy who gets on with his kennel mates. He has a low level of leish which is controlled by one tablet a day. He has been castrated and is fully vaccinated, passported chipped and ready to go!!
He had been locked up in an enclosed area and just fed once or twice a week by his "owner". But one day he managed to escape so some friends of mine "dog napped" him and brought him to us.
Can you find a place in your home for this lovely boy?
Give this dog a home
If you can give this dog a home please click on the button below to contact us and please do share this post with anyone who you think might be interested using the share buttons below. Thank you!
Get in contact
Please click on the images below to enlarge and view the gallery.