Dog Fact file
Name: JACK
Breed: MIXED/BIG DOG
Sex: MALE
DoB/AGE: 3 YRS (at time of posting)
Vaccinations: YES
Chipped: YES
Spayed/neutered: YES
Ready to travel: YES
Special needs: NO
Friendly: YES
STATUS: RE-HOMED SPAIN FEB 2018
DATE POSTED: FEB 2018
Ref: 5473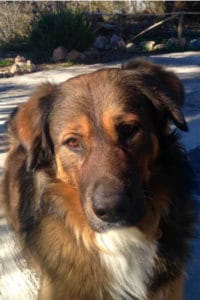 Hello everyone, meet JACK
Beautiful JACK is looking for a very good forever home. He's nearly 3 years old, has a passport, is chipped, castrated and has all vaccinations.
He is a very lovely and calm big boy with a shoulder height about 70 cm and weighs 38 kg. Once you earn his trust he loves to play and cuddle and is the most loyal companion. He'll make a good guard dog and is nice with other dogs, cats and children. He likes to be outside and loves a dog house to sleep in. Jack is is good on the leash and has learned the most important commands. He can be alone for some time and never destroyed anything.
As with many of the dogs here he has a sad story – but nothing that can't be fixed with love and kindness. He was abandoned and tied tight to a water storage and hit by his owner.  He still is a bit skeptical with strangers, especially if they move fast towards him or have a stick in their hand. Although he has a sad past he's never shown aggression and still has trust in humans. Jack is also happy to go in the car even on long trips.
He is looking for somebody who treats well and loves him like family, where he can have his outdoor space and the chance to be outside a lot. Ideally there would be another dog as he likes company.
Who will take this wonderful dog into their home and heart?
STATUS: RE-HOMED SPAIN FEB 2018
Give a dog a home
This dog has been re-homed but if you are interested in fostering or adopting a rescue dog please click on the button below to meet the Valle Verde dogs still waiting to find their forever homes and families. Please also share our stories with anyone you know who might be able to help. Thank you!
Please click on the images below to enlarge and view the gallery.