Minnie is a young and easy-to-please podenco girl. Can you help her find her way to a new home? Please share her story.  
Dog Fact file
Name – MINNIE
Breed – ROUGH HAIRED PODENCO
Sex – FEMALE
Age – 6 MONTHS OLD (POSTED JAN 2016)
Vaccinations – YES
Chipped – YES
Spayed/neutered – NOT YET
Ready to travel – YES
Special needs – NO
STATUS – IN NEED OF FOSTER / ADOPTION
STATUS – IN NEED OF FOSTER / ADOPTION
DATE POSTED -JAN 12 2016 (Ref:)2488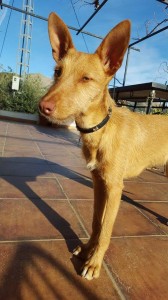 Meet MINNIE
Hello everyone. This is MINNIE
This is Minnie who is approx 16 inches/40 cm from shoulder to ground and approx 26 inches/66cm from tip of nose to bottom. About 6 months old and 7.2kg at the moment. defleaed, wormed, checked over by a vet and has started vaccinations. Super friendly, great with other dogs and children, just wants to be with you all the time and be cuddled, but plays happily in the campo too so won't need much walking if given enough space to play. Don't hesitate to contact us if you would like to adopt Minnie. Can't adopt? Please share using the links below, thanks!
Please click on the images below to enlarge and view the gallery.