Athos and Artemis were found alone in a ditch and brought ot the safety of the shelter. They are tranquil and shy boys who would so love a family….!
Dog Fact file
Name – ATHOS AND ARTEMIS
Breed – SPANISH MASTIN
Sex – MALE
Age – 16 WEEKS OLD
Vaccinations – YES
Chipped – YES
Spayed/neutered – IN PROGRESS
Ready to travel – YES
Special needs – NO
STATUS – IN NEED OF FOSTER / ADOPTION
STATUS – IN NEED OF FOSTER / ADOPTION
DATE POSTED – MARCH 18 2016 (Ref:) 2807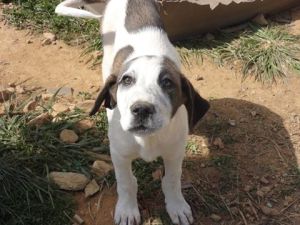 Meet ATHOS AND ARTEMIS
Hello everyone. This is ATHOS AND ARTEMIS
Athos and Artemis are Spanish Mastin brothers, very similar looking, they are about 16 weeks old and ready to travel! They had another brother, you guessed it, Portos, who has already been adopted. Now they share their pen with Bruno their baby sitter and protector (also looking for a home!) until their family arrives… These boys will be large sized and gentle giants, who will be the lucky ones to give them a home?! Contact us today!
Please click on the images below to enlarge and view the gallery.
[/su_custom_gallery][/su_custom_gallery]