Dog Fact file
Name: OLLIE
Breed: TERRIER MIX
Sex: MALE
DoB/AGE: MARCH 2019
Vaccinations: YES
Chipped: YES
Spayed/neutered: TBC
Ready to travel: YES
Special needs: NO
Friendly: YES
STATUS: ADOPTED UK AUGUST 2019
DATE POSTED: MAY 2019
Ref: 6913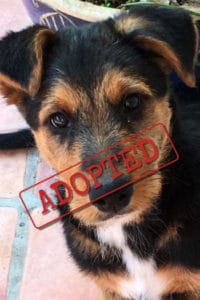 Hello everyone, meet OLLIE
Ollie and his brother Stan are 3 months old (at time of posting) and both looking for forever homes.
They are both playful mischievous and very friendly. Of the two Ollie is the instigator of the fun and games
They're both good with other dogs, cat, children and new people.
STATUS: ADOPTED UK AUGUST 2019
Give a dog a home
This dog has been ADOPTED IN THE UK but if you are interested in fostering or adopting a rescue dog please click on the button below to meet the Valle Verde dogs still waiting to find their forever homes and families. Please also share our stories with anyone you know who might be able to help. Thank you!
Give a dog a home
Please click on the images below to enlarge and view the gallery.