Dog Fact file
Name – Rama
Breed – Labrador
Sex – Female
Age – 18 months
Vaccinations – YES
Spayed/neutered – YES
Special needs – NO
STATUS – RAMA HAS FOUND A FOREVER HOME WITH HER FOSTER MUMMY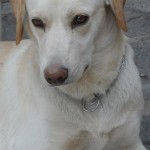 Meet Rama
Hello everyone. My name is Rama.
I think I might be a Labrador mix, but I'm not sure. I do know I like people and I LOVE my new family. I'm very eager to please and very gentle. I love other dogs, so long as they aren't really big and bouncy, and I love to play.
I'm much stronger now than I was when I arrived, good walks, good food and loving company have worked miracles, my personality is slowly showing through and I'm a HUGE cuddle lover. When I go out for walks I never wander off and I don't pull on the lead but I don't like collars very much, the harness is okay though.
I'm very kind and gentle and I'm told I'm a good girl – except with cats – they do run so fast and I can't help myself but I'm learning they aren't for chasing, they are for ignoring… or maybe the odd sniff.
I'm called Rama because my new mummy and daddy didn't know where I came from or where I was going… well they know I am staying now.

Thank you Valle Verde!