Dog Fact file
Name: COOPER
Breed: CHOW CHOW CORGI CROSS
Sex: MALE
DoB/AGE: JUNE 2009
Vaccinations: YES
Chipped: YES
Spayed/neutered: YES
Ready to travel: YES
Special needs: NO
Friendly: YES
STATUS: ADOPTED NOVEMBER 2018
DATE POSTED: MARCH 2018
Ref: 5618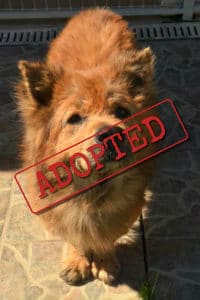 Hello everyone, meet COOPER
Cooper was recently found in Salobreña, he looked dead lying on the ground. He has a chip and has been missing for 6 years but the owners do not want him back. He is a very friendly boy. DOB 01/06/2009. Cooper is a Chow Chow Corgi cross.
He has leishmaniosis which is not catching and very cheaply treated ( 2-3€ per month) He can travel anywhere in Europe for the right home (preferable not with other males). He is a little gem, very loving and chilled little boy.
Update April 2018: For those following the story of COOPER, he is becoming a happy boy, big tail wags for everyone, still very thin, coming out in clumps, lots of medication, and TLC. He enjoys sleeping in a soft bed, and puts up with his daily brushing with much patience! Poor old fella!
Come on everybody, let's find this plucky little chap a home.
STATUS: ADOPTED BY FOSTER FAMILY NOVEMBER 2018
Give a dog a home
This dog has been re-homed but if you are interested in fostering or adopting a rescue dog please click on the button below to meet the Valle Verde dogs still waiting to find their forever homes and families. Please also share our stories with anyone you know who might be able to help. Thank you!
Give a dog a home
Please click on the images below to enlarge and view the gallery.