Dog Fact file
Name: EMMA
Breed: PODENCO CROSS
Sex: FEMALE
DoB/AGE: JUNE 2016
Vaccinations: YES
Chipped: YES
Spayed/neutered: YES
Ready to travel: YES
Special needs: HAS LEISH
Friendly: YES
STATUS: IN NEED OF FOSTER / ADOPTION
DATE POSTED: DEC 2017
Ref: 5419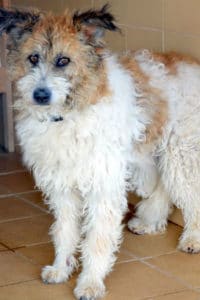 Hello everyone, meet EMMA
Emma is an 18 month old (at time of posting) scruffy Podenco cross. She was rescued from the pound with a terrible skin condition. She's looking much better thanks to the care she's received at Valle Verde. She's recovering well but is still quite nervous around people, so needs an understanding home.
Update April 2018: For those of you who have been following Emma's story after her rescue from Baza Perrera last November we've posted some new photos of her below. Compare the photo of when she first arrived, her legs were red and raw and bleeding, and she was skin and bone. Just look at her now!
Emma has come on so well after lots of TLC. She is a lovely dog, a bit shy at first and needs to build up her confidence. She will be about 2 years old this June. Although she has low level leish, and is on one aluporinol tablet a day, she tested negative for all other diseases.
She gets on well with all the dogs, ignores cats and is very calm and sweet. She is looking for a home and is ready to travel. She is spayed, fully vaccinated and chipped.
This girl deserves a loving home. Can you help her on her journey?
Give this dog a home
If you can give this dog a home please click on the button below to contact us and please do share this post with anyone who you think might be interested using the share buttons below. Thank you!
Get in contact
Please click on the images below to enlarge and view the gallery.