Dog Fact file
Name: ESME
Breed: TRI-COLOUR BORDER COLLIE
Sex: FEMALE
Age/DoB: MARCH 2015
Vaccinations: YES
Chipped: YES
Spayed/neutered: YES (when pups are weaned)
Ready to travel: YES
Special needs: NO
Friendly: YES
STATUS: RE-HOMED IN HOLLAND JULY 2017
DATE POSTED: MAY 2017
Ref: 4732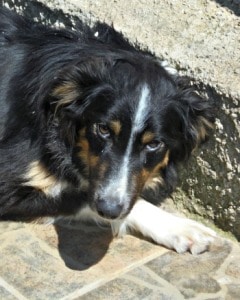 Meet ESME
Hello everyone. This is ESME
Esme is a female tri-coloured border collie and her estimated date of birth is 01/03/2015. She was rescued from a local perrera after giving birth to 8 pups. Unfortunately two of the pups died before we could get her out of the pound. She is still feeding the little ones but they are also eating a bit on their own now.
She has been vaccinated but not yet spayed. She will be spayed once the pups are totally weaned. She is a really friendly and loving dog and gets on with other dogs. She and her boyfriend Blue share the same garden at Valle Verde.
STATUS: RE-HOMED IN HOLLAND JULY 2017
Give a dog a home
This dog has been re-homed but if you are interested in fostering or adopting a rescue dog please click on the button below to meet the Valle Verde dogs still waiting to find their forever homes and families. Please also share our stories with anyone you know who might be able to help. Thank you!
Please click on the images below to enlarge and view the gallery.