This is Little Lizzie. A sweet little thing who was in desperate need of fostering and adoption. She has now been re-homed in Holland. Good luck Lizzie!
Dog Fact file
Name – LIZZIE
Breed – SMALL MIXED BREED
Sex – FEMALE
Age – 2 YEARS
Vaccinations – YES
Chipped – YES
Spayed/neutered – YES
Ready to travel – YES
Special needs – NO
STATUS – RE-HOMED IN HOLLAND MAY 2015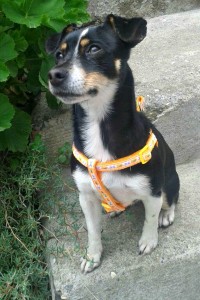 Meet LIZZIE
Hello everyone. This is LIZZIE
She is about 2 years old and has been spayed and will soon have her jabs and passport organised so that she is ready to travel.  She is very, very small and quite timid with bigger dogs but loves cuddles and to curl up on a friendly lap.
Lizzie is not doing well at her current foster home as she is the smallest dog there and is getting very overwhelmed, nervous and scared. Can you find a place in your heart for Little Lizzie. She will bring a lot of love.
RE-HOMED IN HOLLAND MAY 2015