Dog Fact file
Name: MATTEO
Breed: MIX (TBC) 35 Kilos
Sex: MALE
DoB/AGE: FEBRUARY 2017
Vaccinations: YES
Chipped: YES
Spayed/neutered: TBA
Ready to travel: YES
Special needs: NO
Friendly: YES
STATUS: IN NEED OF FOSTER / ADOPTION
DATE POSTED: APRIL 2018
Ref: 5663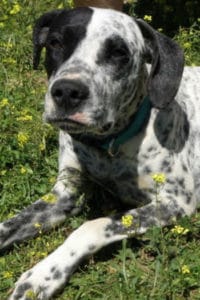 Hello everyone, meet MATTEO
In the words of his foster carer:
Matteo is gentle and calm, very affectionate and intelligent. He's obedient and listens to what you say. He loves people and is very friendly.
He's pretty much a perfect dog and gets on very well with the other dogs, but he barks at the cats – in a home situation I think he would be ok around cats with very little training. Currently I do not walk him on the lead but I know he could be trained very easily to do this and he is not yet house trained
He is a very handsome dog, unusual markings and very distinctive in his way. We've had him since he was just over 2 months old and he has never known anything but love and affection, plus some good discipline. His brother is Daniel, fostered at the same time.
Please click on the images below to enlarge and view the gallery.