Dog Fact file
Name: PRINCE
Breed: STAFFIE CROSS
Sex: MALE
DoB/AGE: OCTOBER 2014
Vaccinations: YES
Chipped: YES
Spayed/neutered: YES
Ready to travel: YES
Special needs: NO
Friendly: YES
STATUS: RE-HOMED HOLLAND JANUARY 2019
DATE POSTED: JAN 2018
Ref: 5436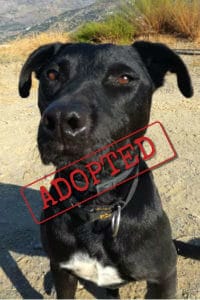 Hello everyone, meet PRINCE
This beautiful boy is Prince. He was found close to death last summer by some water taps desperately trying to drink the drips. We brought him into the shelter and found that he has leishmaniosis. After intensive blood tests and skin grafts and biopsies, he was put on a course of milteforan. At first he deteriorated BUT HE DIDN'T GIVE UP!
He kept wagging his tail and was always happy to see us. He loves a cuddle and rub of his head. 
Look at him now! His beautiful glossy coat shows how much his health has improved; he's a friendly young dog who is now ready to find a loving home. He walks well on the lead, and loves attention.
Update: August 2018

Prince is our longest rescue resident. He loves people, children, food and walks. And can also be at home alone for some time, is very easy going and is easily taught new things. He doesn't like cats or swimming though. Please people find him a home! He deserves it so much!!!

Update: November 2018

Sadly Prince's adoption did not work out and he is back at the shelter. Please help us find this lovely boy a home!
This dog is special. Please share him and help him find his new life.
STATUS: RE-HOMED HOLLAND JANUARY 2019
Give a dog a home
This dog has been re-homed but if you are interested in fostering or adopting a rescue dog please click on the button below to meet the Valle Verde dogs still waiting to find their forever homes and families. Please also share our stories with anyone you know who might be able to help. Thank you!
Give a dog a home
Please click on the videos images below to see what a wonderful boy Prince really is